*
Greetings and thanks for visiting our website,
June 2013,
Remember when, not so long ago, the players of the Connecticut Constitution were 'teaching' school to the other teams during their first season of professional ultimate. Well, this summer those same players are going to be 'teaching' school to the students of ultimate at our first annual CTC Nike Sports Camp coming  on the last week in July for 5 consecutive days of camp.
Our camp will take place in Bristol on the grounds of St. Paul Catholic High School conveniently located just north of Route 6.
This is your opportunity to learn some new skills, hone your game and play some ultimate with the pros.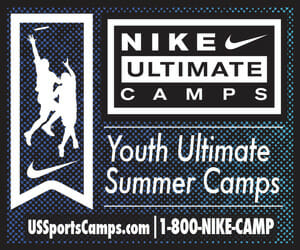 For more information about the camp, please visit the Nike Ultimate Camps website.
February 2013,
Constitution fans and followers, we are developing our clinics, camps and seminars series for 2013. We are excited to offer our experience to the next generation of Ultimate competitors. We will be publishing our schedule shortly.
Connecticut is a great stomping ground for Ultimate and we will continue to help build our talent pool of players.
Watch for our announcements and we hope to see you all in 2013.
Yours in Ultimate,
Bryan Ricci, CEO
By the way, we suggest you keep your eyes on the new Major League Ultimate as they commence their inaugural season with teams in our corridor, including Boston and New York. Check them out at mlultimate.com.
January 2013
In 2012, the Constitution organization participated in the beginning of a new professional sports league and traversed an exciting season full of rewarding accomplishments and difficult challenges. Through it all, the organization maintained its vision to build a product on the Connecticut landscape. We created fans, forged business partnerships and developed relationships with the ultimate community in Connecticut. Our efforts have just begun.
Professional ultimate and professional sports are something that can have a home in Connecticut, but as yet, our tireless efforts to make that a reality in 2013 have been unsuccessful. Although left without a structure to compete on the field this season, the Constitution will not abandon its roots or its mission.
The Constitution is a multi-faceted organization and although efforts will continue to develop the professional ultimate landscape, the organization's primary focus in 2013 will be to facilitate the growth of participation in ultimate in Connecticut.
Our 2013 objectives are noteworthy and bear repeating. We will continue to grow ultimate in Connecticut. We will continue to champion increased ultimate play in our colleges, high schools and grammar schools. We will maintain a strong presence that will include clinics, seminars, speaking engagements and instructional camps to build our sport and continue making our vision a reality.
Ultimate is an exciting sport that embodies sportsmanship and athleticism and through increased player participation and public awareness we will grow it here in our backyard.  
We applaud the efforts of Major League Ultimate in continuing the evolution of professional ultimate and we are happy that our fans and followers will have the opportunity to watch professional ultimate in New York and Boston as part of that vision.
For you, our fans and followers, at the end of the day, Connecticut is our home and Connecticut is our name and when all is said and done, it remains that 'Connecticut is Ultimate'.
Very truly, 
The Connecticut Constitution family
December 14, 2012,
The Connecticut Constitution family mourns with the rest of Connecticut over the senseless loss of lives today. We extend our heartfelt thoughts and sorrow to the families and friends of all of the victims.
December 12, 2012
Lawsuits are settled; Constitution contemplates 2013.
After many months of back and forth posturing, the Connecticut Constitution and the AUDL have reached a negotiated settlement of their conflicts. The two sides have agreed for the good of the sport to settle this disagreement.
The Connecticut Constitution is pleased to acknowledge that we will retain all rights to our name.
The Constitution will now be able to concentrate on moving forward and determining the best course for the Connecticut team into the future.
Stay tuned!
The Constitution organization wants to thank its followers and supporters for their understanding during the last months of the season and until now. Our organization continues to seek the expansion of ultimate Frisbee in the Connecticut area both as a participant and fan based sport and will continue to foster ultimate's 'spirit of the game' in everything that we do. We are excited to begin our quest for what is next for our organization and our team.
Yes, Connecticut is Ultimate.
Very truly,
Bryan Ricci, CEO, Connecticut Constitution LLC
~~~~~~~~~~~~~~~~~
October 7, 2012
Good morning CTC fans,
We would like to provide our fans and followers some additional information related to a response provided numerous times by Josh Moore, the owner of the AUDL to ultimate supporters. He said "the league has offered to drop lawsuits and fines, at this point CT could come back if they want. They've not indicated they want to be in the league at this point".
The CTC has tried to maintain the high road and not get into this litany of misinformation and half statements, however, we think you should be aware of the whole offer and a reminder of the story. We think it is abundantly clear that the CTC supports the growth of professional ultimate and have always maintained that as our primary goal. This has been evident all through our first season and even today.
Besides promoting ultimate, there are always going to be business motivations in any organization, and ours is no different. The movements of the AUDL (i.e. the selling of areas located within our territory) were in direct conflict with an agreement that they wrote and we both signed. Complicating things further, they filed the lawsuit against us. We were compelled to respond to their lawsuit, but the legal costs to challenge this backhanded lawsuit was and continues to be expensive.
The AUDL has suggested multiple times that they would drop the lawsuit. It is their suit and they can drop it if they so choose. However, they continue to elect not to drop the suit and instead drag the suit on. Also, nowhere in Mr. Moore's statement does he tell you that in return for the league dropping the fines and lawsuit, he will keep the New York and Boston areas in our territory and offers no compensation for those areas and no reimbursement for any of our legal fees. We do not feel that is an acceptable offer and that is where we are currently.
As an organization, we continue to seek the best for ultimate and the best for our team, our sport and our fans. We are running our operations on the premise that 2013 is coming and we need to be prepared for whatever form the 2013 season brings.
Separately, we would like to wish the Philadelphia Spinners the very best of luck as they move forward. Without a doubt, they are the pride of Professional Ultimate.
As always, we thank you for your support.
Bryan Ricci, CEO, Connecticut Constitution LLC
~~~~~~~~~~~~~~~
September 21, 2012
Dear Connecticut Constitution faithful and all Ultimate fans,
Today is a chapter ending and chapter beginning kind of a day. Your Connecticut Constitution was created and developed with one mission; to promote affordable professional sports in the state of Connecticut. (That statement comes right from our Business Plan)
We are pleased to say that we have succeeded. Our first year as a professional sports team was met with numerous challenges but far outweighed by our countless successes both on and off the field.
The Connecticut Constitution could not have managed its first year without the constant dedicated efforts of our operating staff, the likes of family members, close friends and associates, and interns who contributing thousands of volunteer man hours for the sake of a dream. Their efforts were followed ever so closely by the tireless support and unselfish involvement provided by our players, who went beyond the call of any player's duty to help us develop our brand. Our players offered their collective talents to help us reach out to sponsors, develop marketing agendas, build our social media, oversee sales plans and merchandise sales, provide game day ideas, offer game day operations support, deliver production prowess, create promotional materials, reach out to local schools and clubs, make time for team and brand building events, and sell the excitement to family and friends. In a word; amazing!
This wasn't my dream, this was everyone's dream.
The CTC, of course, means nothing if not for our fans. We knew from the start that we needed to create a fan base. Tireless efforts were placed on this requirement. It became well known in our operating circle that we needed to get two wins every week. Of course, on the field we always played to win, but, more importantly, off the field, we needed to win fans, champion them to consider coming back to see us again and again and to talk about the CTC to all their friends. You are the proof of our efforts. Thank you is probably not enough.
Unfortunately, for all of our efforts in our territory, the territory that we hold near and dear to us, the league had its own motives. We will not dwell on the negatives here though.
The Connecticut Constitution exists because of our organization, our players and our fans and of course our sponsors. Every one of these has created a cornerstone to build, not to dismantle. Our team stands alone and we stand strong.
Our other successes included our fund raising efforts for our team charity this season, Cystic Fibrosis, our hosting of the High School All Star game (darn the weather though), ESPN Radio and Mike Bower coming out pre game and inviting us back to the studios (You gotta work on that throw, Mike!), World Fulfillment game day incentives (a big thanks to you guys for seeing something in our concept), CCSU being the best venue in the league, CPTV provided us video and rebroadcasting coverage of our games (awesome to work with), CONRAD (you know who you are), medical staff on game day (more gauze and tape and ice and….), game day announcers (you guys made the games what they were), post games at Tools, Nora's Cupcakes on game day (THE best!), Premiere bus transportation (an understanding bunch over there), the CT based umpire crew (the best in the biz), building relationships with our news media outlets and the list goes on.
We also want to acknowledge the other teams, team owners and players in our league. It was their dedication that made our season a pleasure on the field.
This is hardly the end, this is the beginning. Good things do not go away….. they continue.
We all know that Connecticut is Ultimate. (..so is New York, so is Massachusetts….)
Turn the page because here comes Chapter 2.
Yours in professional ultimate,
Bryan Ricci, CEO (and all of the organization, staff, players and volunteers)
Connecticut Constitution LLC
~~~~~~~~~~~~~~~~
September 11, 2012
Good morning fans,
I wanted to get in front of you this morning in advance of some news that will be published today or tomorrow.
The lawsuit between the Constitution and the AUDL continues to drag on.
Early last week our team received a letter from the AUDL (Josh Moore) that the CTC would be terminated if we did NOT pay the $10,000 fines related to not just the Kentucky and Indianapolis games, but, also, in a grandstand gesture, Mr. Moore added the missed Buffalo game for an additional $10,000. The fines are required to be paid by September 21 or our TLA will be terminated.
We have protested the previous 2 fines based on the AUDL filing the suit upon us and we continue to protest those fines. We have been silent with the AUDL in response to the letter from last week. We are in discussions with our attorneys in Michigan (where the original suit was filed) and Connecticut (where we have sent cease and desist letters, where we will be filing injunctions and where we also expect to file a breach of contract suit).
This frivolity on the AUDL's part has cost us an inordinate amount of money…. to protect our investment, to protect our team and to protect our brand.
The AUDL (and whoever is providing counsel or whatever) believes that by eliminating its Connecticut team, this will pave the way for them placing a New York and Boston team. The termination, though, as clearly stated in the league written Territory License Agreement, actual states that the league cannot transact business within that territory for 5 years. We will challenge any teams placed in our territory.
Whether in or out of the AUDL, the Constitution will continue in its pursuit for what is right and just AND it will continue as an organization with our mission to bring professional ultimate to Connecticut and the surrounding states. We will NOT vary our course. The Constitution is here to stay and no fledging league will take that away from us.
Very truly,
Bryan Ricci, CEO, Connecticut Constitution
CHECK US OUT ON FACEBOOK AND FOLLOW US ON TWITTER.
Again, thanks for visiting.
Very truly,


Bryan Ricci, Chief Exective Officer               Joe Ricci, VP Operations